S4E43 - Ep 43: The Scorpion and The Frog / Birdnesting
1 year ago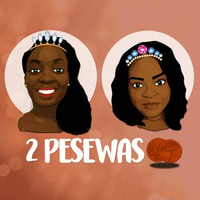 On today's episode, Edi (@Kekeli_E) and Peaches (@musingatmidnite) discuss:
In The News (00:41): China clamps down on foreign influence in its education sector, and Iceland pilot tests a 4 day work week.
Songs Of The Week (13:00): featuring music from Yseult, Jacob Collier, Superjazzclub, Khruangbin and Johnny Drille.
WTF?! (22:00): A sidewalk collapse drops a man 15 feet into a nest of rats, and a woman discovers she has a lactating third breast.
Two Pesewas (27:20): The tale of The Scorpion and The Frog, and explaining the domestic arrangement called Birdnesting.
2 Pesewas broadcasts from Ghana ✌❤.
For more information visit:
Website: https://2pesewas.wixsite.com/2pesewas
Other Platforms: https://elink.io/p/come-find-us