S4E50 - Ep 50: The Best Thing About You / 7 Women to Every Man
Season 4 Finale
1 year ago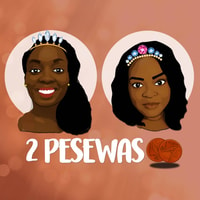 On the Season 4 finale, Edi (@Kekeli_E) and Peaches (@musingatmidnite) discuss:
In The News (01:28): South Korea's President pushes for a ban on the consumption of dog meat, and a Malawian ex-MP takes his own life at the Parliament offices.
Songs Of The Week (12:45): featuring music from Cina Soul, Ria Boss, Paapa Versa, Nas and Liquideep.
WTF?! (22:54): A Danish artist was paid $84,000 as commission to recreate some of his famous work for a museum, but instead submitted 3 blank frames as a new art piece called "Take The Money and Run"
Two Pesewas (26:58): 'The Best Thing About You' features feedback from couples on the best thing about their partner, and '7 Women to Every Man' analyzes statistics about Ghanaian women.
2 Pesewas broadcasts from Ghana ✌❤.
For more information visit:
Website: https://2pesewas.wixsite.com/2pesewas
Other Platforms: https://elink.io/p/come-find-us
🐧SENDWAVE PROMO DETAILS🐧
Try SENDWAVE today and get $5 or £5 FREE! Follow the link below to download the app for free and use code 2PESEWAS to redeem your credit! It's that simple! https://try.sendwave.com/kjap/d96a1de4
Just incase, here's a link to our own video walking you the set up process:✌ https://youtu.be/aneiojzty94