S4E51 - Ep 51: Christmas Episode 4
Xmas Traditions Around The World / Xmas Cheer In A Pandemic
1 year ago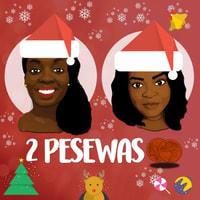 🎄Merry Christmas 2P Fam!🎄 On our special Christmas episode, Edi (@Kekeli_E) and Peaches (@musingatmidnite) discuss:
In The News (01:00):An 11 year old gets to experience his first real Christmas thanks to a kidney donation, and the Trafalgar Square Christmas tree causes a stir online.
Songs Of The Week (05:55): featuring music from Chris Rea, Nora Jones, Dadi Freyr, Jehovah Shalom Choir and Otis Redding.
WTF?! (13:54): A mom with a newborn premie is criticized for saying she's too tired to decorate for Christmas, and Florida Man fakes a heart attack in a ploy to steal christmas presents.
Two Pesewas (18:45): Christmas Traditions Around The World, and 5 Ways to Spread Christmas Cheer in A Pandemic.
2 Pesewas broadcasts from Ghana ✌❤.
For more information visit:
Website: https://2pesewas.wixsite.com/2pesewas
Other Platforms: https://elink.io/p/come-find-us