S4E47 - Ep 47: Skincare Acids / Ableism
1 year ago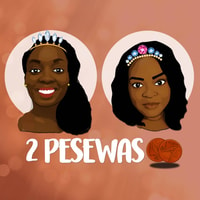 On today's episode, Edi (@Kekeli_E) and Peaches (@musingatmidnite) discuss:
In The News (00:54): Headlines claim a revision to the Intestate Succession Law would make slayqueens and sidechicks eligible to inherit, and China's investment in the Gambian Fishing Industry has had severe environmental consequences.
Songs Of The Week (11:55): featuring music from VanJess, Phazz, Ladipoe, Christian Kuria, Musa and Adekunle Gold.
WTF?! (21:25): Jesus has returned and is causing a stir in Kenya and Tanzania, and Harvard scientists announce plans to bring back the Wooly Mammoth.
Two Pesewas (30:40): An introduction to Skincare Acids, and Ableism and how we can do better.
2 Pesewas broadcasts from Ghana ✌❤.
For more information visit:
Website: https://2pesewas.wixsite.com/2pesewas
Other Platforms: https://elink.io/p/come-find-us
🐧SENDWAVE PROMO DETAILS🐧
Try SENDWAVE today and get $10 or £10 FREE! Follow the link below to download the app for free and use code 2PESEWAS to redeem your credit! It's that simple! https://try.sendwave.com/kjap/d96a1de4
Just incase, here's a link to our own video walking you the set up process:✌ https://youtu.be/aneiojzty94