S4E44 - Ep 44: Intuition or Hocus Pocus / Defining Your Well-being
1 year ago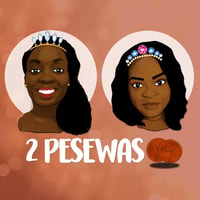 On today's episode, Edi (@Kekeli_E) and Peaches (@musingatmidnite) discuss:
In The News (00:50): A park in India bans unmarried couples from entering, and Bolt is accused of adding a Pink Tax to its female only ride option.
Songs Of The Week (13:00): featuring music from Kaiit, Afriyie Wutah, Yebba, Tha Boy Miles, and Daniel Merriweather.
WTF?! (19:15): A 7 year old in South Africa suffers horrific abuse at his relatives hands, and a Japanese man is arrested for defrauding the 35 women he is dating.
Two Pesewas (27:30): Is Intuition real or just Hocus Pocus? and how to Define and enhance Your Wellbeiing.
2 Pesewas broadcasts from Ghana ✌❤.
For more information visit:
Website: https://2pesewas.wixsite.com/2pesewas
Other Platforms: https://elink.io/p/come-find-us
🐧SENDWAVE PROMO DETAILS🐧
Try SENDWAVE today and get $10 or £10 FREE! Follow the link below to download the app for free and use code 2PESEWAS to redeem your credit! It's that simple! https://try.sendwave.com/kjap/d96a1de4
Just incase, here's a link to our own video walking you the set up process:✌ https://youtu.be/aneiojzty94