S4E41 - Ep 41: Food Blogging Lessons / Random Personal Facts
Season 4 Debut
1 year ago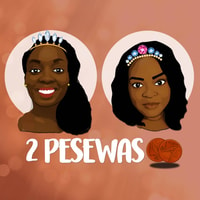 On the season 4 debut, Edi (@Kekeli_E) and Peaches (@musingatmidnite) discuss:
In The News (2:25): Ghanaians asked to donate towards building the National Cathedral and the new Ghanaian school curriculum abandoned due to lack of books.
Songs Of The Week (18:15): featuring music from Meklit, Juls, Gyakie, Jewel Ackah and Koffee
WTF?! (24:45): The drama and shock of Covid 19, and Wedding Finances shenanigans.
Two Pesewas (40:15): Lessons learned from food blogging at Ginger and Seasalt, and Random Personal Facts about Peaches.
2 Pesewas broadcasts from Ghana ✌❤.
For more information visit:
Website: https://2pesewas.wixsite.com/2pesewas
Other Platforms: https://elink.io/p/come-find-us