S4E49 - Ep 49: Barbara & Joe / Words with no English Equivalent
Season 4 penultimate episode
1 year ago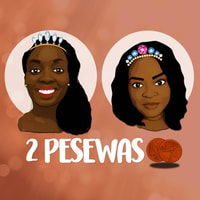 On today's episode, Edi (@Kekeli_E) and Peaches (@musingatmidnite) discuss:
In The News (00:40): Accra has been named UNESCO World Book Capital for 2023, and a Swedish Professor has created a sustainable Plant-based Milk Alternative from potatoes.
Songs Of The Week (06:28): featuring music from Skillz 8figure, Capella Grey, The Beatles, Anthony Hamilton, and Nana Kwame Ampadu.
WTF?! (18:45): Wealthy Victorian Brits used to pay people to live in their gardens as Hermits, and a Ghanaian police officer coerced a woman into sex in exchange for release from jail.
Two Pesewas (25:00): On being a Barbara the Builder and dating a Joe Pote, and fascinating Words that have No Equivalent in English.
2 Pesewas broadcasts from Ghana ✌❤.
For more information visit:
Website: https://2pesewas.wixsite.com/2pesewas
Other Platforms: https://elink.io/p/come-find-us
🐧SENDWAVE PROMO DETAILS🐧
Try SENDWAVE today and get $10 or £10 FREE! Follow the link below to download the app for free and use code 2PESEWAS to redeem your credit! It's that simple! https://try.sendwave.com/kjap/d96a1de4
Just incase, here's a link to our own video walking you the set up process:✌ https://youtu.be/aneiojzty94